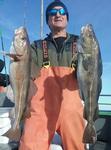 On one of the daily trips
for cod on the party boat
Captain Al, Point Lookout,
Long Island, N.Y.
The extreme cold
kept some of the trips
from fishing, only because
of angler demand. But the
crew shapes up for the angling
each day, and the weather
was about to break.
January can be the best
month for the catches.
The vessel is this website's
only that sails for cod
daily each winter.
See more about
Captain Al.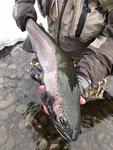 No matter the cold, snow or ice.
Steelhead fishing on upstate
New York's Salmon River
on Jan. 2 with
Jay Peck Guide Service.
See more about
Jay Peck.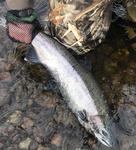 Steelheading the next
day on the river with Jay.
Winter weather
is steelhead weather.
Visit Jay Peck
Guide Service's
website.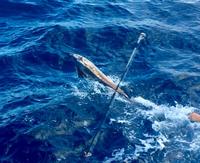 Fishing was great
for Captain Easy Charters
from the Florida Keys,
the captain reported.
Above, a sailfish
released aboard.
Visit Captain Easy
Charters' website.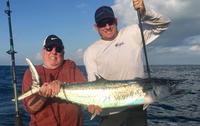 Catches included king mackerel,
including this one.
A little of everything bit,
also including wahoos,
snappers and a
few mahi mahi.
Visit Captain Easy
Charters' website.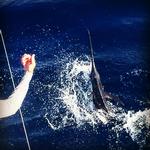 This trip went
2 for 4 on sails.
January and February are
a time for them.
Weather was a little
warmer than in Jersey
at this southernmost
location in the country, too!
Visit Captain Easy
Charters' website.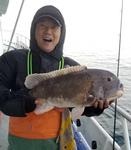 Blackfishing on the ocean
on the party boat Norma-K III,
Point Pleasant Beach, on
Jan. 3, the day before
the snowstorm during a
"bombogenesis." Temperatures
plummeted to the teens
on the next days.
Visit Norma-K III's
website.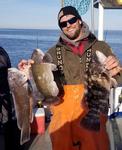 Was a beautiful day
on the ocean on
flat-calm seas, and the
angling was a little
better than previously.
A 12-pounder won the
pool, and a few 4- to
7-pounders were canned.
Trips sailed for blackfish daily.
Visit Norma-K III's
website.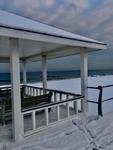 A couple of inches
of snow fell along
the coast in frigid cold
on the day before
New Year's Eve. Photo from
the party boat Big Mohawk, Belmar.
Visit Big Mohawk's
website.