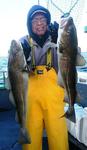 Cod on the party boat
Captain Al, Point Lookout,
Long Island, N.Y. The fishing
was off to a good start,
better than in recent years.
See more about
Captain Al.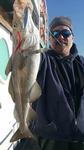 This one was jigged
(click the photo to
enlarge it and see),
and a few were,
but most were clammed.
The boat is this website's
only that fishes for cod
daily each winter.
No trip would fish
on New Year's, though.
See more about
Captain Al.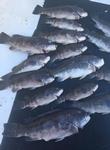 Blackfish with Fishin'
Fever Sportfishing, Cape May.
Charters and open-boat
trips were still sailing
for the tautog.
Visit Fishin' Fever
Sportfishing's website.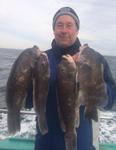 Sailing for blackfish
on the party boat
Atlantic Star,
Atlantic Highlands.
Visit Atlantic Star's
website.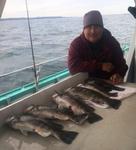 Trips were blackfishing daily
through New Year's Day,
and the boat would
go on a winter
break afterward.
Visit Atlantic Star's
website.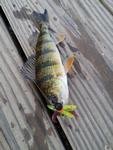 George Horvath from Trenton
wrapped up his fishing
for the year with a trip
to Carnegie Lake when he
released 20 white perch
and four yellow perch.
That's one of the yellow.
He reeled in 42 perch
in two days, an outstanding
way to end, he said.
He caught 2,535 fish in
233 trips from N.J. freshwater
and 86 fish in 40 trips
to the state's saltwater
during the year. He fished
the salt at Manasquan Inlet,
and won't fish again until
the "second thaw" he said,
maybe not until March.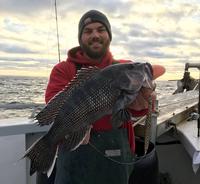 Sea bass fishing
on the party boat
Gambler,
Point Pleasant Beach.
Visit Gambler's
website.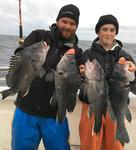 Special trips
were sailing offshore
for jumbos until
sea bass season
closed beginning Jan. 1.
Reserve those outings.
Open-boat trips
were striped bass fishing
when no sea bass
trip was steaming.
Visit Gambler's
website.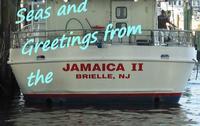 During the holidays
from the party boat
Jamaica II, Brielle.
Visit Jamaica II's
website.