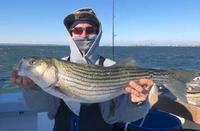 Striped bass fishing
Friday on the ocean on
the party boat Gambler,
Point Pleasant Beach.
Visit Gambler's
website.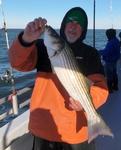 Was a bit of a ride
with a handful of anglers,
but good jigging
for mostly throwbacks
and slots was found.
The captain saw
a variety of bait including
sand eels, bunker
and mackerel, a report said.
Visit Gambler's
website.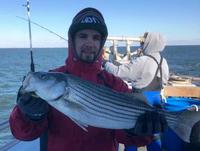 Trips are fishing
for stripers daily.
Offshore sea bass trips
are slated for later
in the month, too.
Reserve the sea bass trips.
Visit Gambler's
website.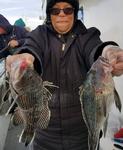 Sea bass on the
party boat Dauntless,
Point Pleasant Beach.
Visit Dauntless's
website.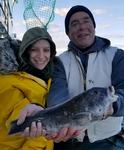 Blackfish aboard.
Visit Dauntless's
website.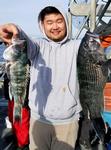 More sea bass.
The daily bottom-fishing trips
will home in on ling and cod
as more of those fish move in
as the water becomes colder.
Visit Dauntless's
website.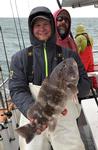 Some blackfish
from the ocean from
the past week on the
party boat Porgy IV,
Cape May. This angler
won a trip's pool with a
9-pounder, and he and his
dad limited out.
Visit Porgy IV's
website.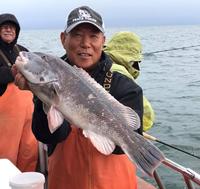 This customer bagged
three of the tautog to 8 pounds.
Visit Porgy IV's
website.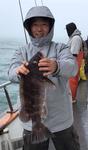 That's an 8-1/2-pounder
for this customer
on another trip. The boat
is blackfishing daily.
Visit Porgy IV's
website.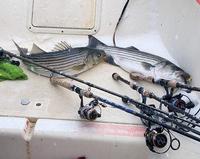 Striped bass
that a charter boated
from the ocean a half-mile
north of Absecon Inlet in
the snow Wednesday with
Capt. Dave Showell from
Absecon Bay Sportsman Center,
Absecon. The trip landed
a 28-inch keeper, two slots
and a good number of throwbacks
on Gulp Nemesis and livelined
spots. The trip began fishing
at bird play that quickly
dispersed, but the fish bit
for 2 hours at the spot.
Catch the store's
***end of year clearance sale:***
25 percent off reels,
25 percent off trolling gear
and 50 percent off
everything else, its
Facebook page said.
Visit Absecon Bay
Sportsman Center's
website.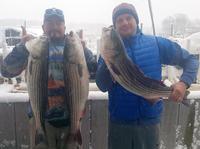 These customers of the shop
that day sailed on a trip
on a private boat that
limited out on 17-pound-
class stripers, landing
at least 20 in 2 hours,
on the ocean farther north.
Follow Absecon Bay
on Facebook.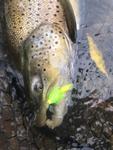 Another one of the
trophy brown trout
that Jay Peck Guide Service
fishes for this time of year
on upstate N.Y. rivers and streams.
You know what they say:
If it ain't chartruse, it's no use.
His guides are also
steelhead fishing.
See more about
Jay Peck.