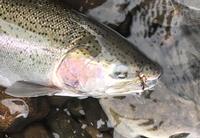 A winter steelhead
from upstate N.Y.'s
Salmon River with
Jay Peck Guide Service.
See more about
Jay Peck.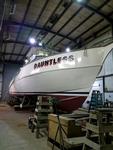 The party boat Dauntless,
Point Pleasant Beach,
was brought to dry dock
in late January for spiffing up.
The crew took advantage
of bitter cold and strong wind
that would have canceled
some of the vessel's
bottom-fishing.
The boat was supposed
to be splashed back
at the slip on Feb. 4 and
was supposed to resume
the daily fishing on the
ocean the next day.
Visit Dauntless's
website.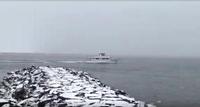 Absecon Inlet
in Atlantic City.
Photo from One Stop
Bait & Tackle
in the town.
Follow One Stop
on Facebook.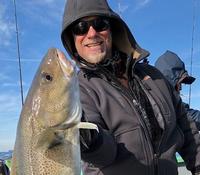 Winter cod fishing
on the party boat
Captain Al from Point Lookout
on Long Island, N.Y.
See more about
Captain Al.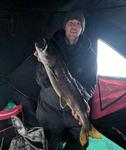 A lake trout
from the ice on
Lake George in the Adirondack
Mountains in New York.
Photos from the Facebook
page of FISH307.com
in the village of Lake George.
That's the ice-fishing superstore.
Lakers are "ready" in the
lake, the Facebook page said.
Visit FISH307.com.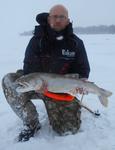 "Yes they are,"
this angler wrote
about lakers being "ready"
in George, when he posted
this shot in a comment
for the previous photo
on the FB page.
Visit FISH307.com.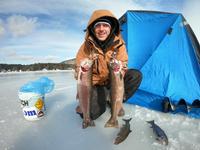 Trout including two
big rainbows the angler
is holding from Glen Lake
in the Adirondacks.
Visit FISH307.com.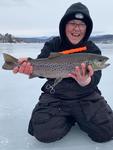 A brown trout
from the ice outside
of New York. That's one
the crew from FISH307.
Visit FISH307.com.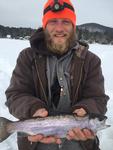 And a rainbow from George.
This was prime ice-fishing
season in the mountains,
and the shop is located
near the southern
entrance to the Adirondacks.
The store is both an
online one and a
brick-and-morter one.
Visit FISH307.com.