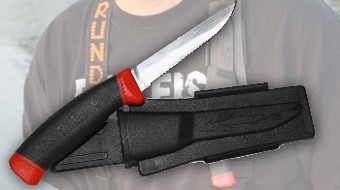 Quick, answer this:
Anytime you jump on
the boat for a serious trip, what's the one thing you're likely to need besides foul-weather slicks?
A knife.
So when Grundens, the company setting the standard for slicks,
makes a deck knife, you notice.
The Gage Deck Knife features a thin, serrated, stainless-steel
blade with a beefy, ergonomic handle, easy to hold.
The sheath, with a belt clip, is made to be worn in a variety of ways, including on bib suspenders.
Magnets in the sheath grab the blade with the right balance to hold the blade secure, but allow it to be withdrawn easily, including in case the knife is worn upside down.
Grundens thinks the Gage is the best affordable knife for the professional fisherman or outdoorsman, the company says.
For more info, visit the Grundens Deck Knife's Web page.