Some anglers might undervalue panfish.
Maybe the fish, like perch, bluegills and crappies, are smaller and can be easier to hook than they'd prefer.
But when an angler even gets a kick out of panfish, that's who's got the fishing bug.
St. Croix has added a rod to its panfish series of spinning poles.
The PFS64LF is a 6-foot 4-incher that's built for 1/16- to 1/4-ounce lures.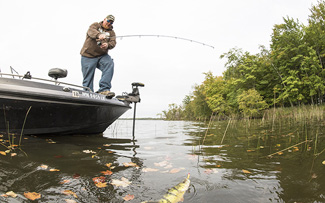 This is a mid-sized rod, a versatile one in the series of 5- to 11-foot poles.
The series already includes a 6-footer and a 6-foot 9-incher.
The 6-foot 4-incher, like the rest in the series, is made from a blend of graphites meant for optimal weight, sensitivity and balance, the company says.
The rod features guides from the company Sea Guide that are lighter and more sensitive than some, it says.

Sea Guide also makes the reel seat, and the seat's insert, the dowel that the reel is attached to, is custom made for this rod.

Previously, all the rods in the series came with guides and reel seats from another company, Pac Bay.

Cork handles on all the rods in the series are meant for comfort and sensitivity, St. Croix says.

An attractive color on the rods, Gold Dust Metallic, is sealed and slow-cured with two coats of Flex Coat to a "shimmering finish," the company says.
Those who appreciate panfish should like that.
They deserve a rod for the fishing.
At press time, the 6-foot 4-incher was yet to be included on St. Croix's panfish series webpage.
Look for the rod to be included soon.

That page shows rods from 5 to 11 feet, the sizes mentioned above.

A 2018 catalog from the company was available online just before press time and showed the latest version of the series, including the 6-foot 4-incher.

The catalog went offline at press time, for uknown reasons, but showed only 5- to 9-foot rods included in the series.

Maybe a change in sizes is in the works for the series, but that couldn't be confirmed before this review was posed.

Anyway, look for the 2018 catalog to become available online again soon.

Watch a past video about the panfish series from 2015 to see a little more about the rods .