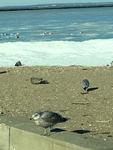 Oops, wait: Here's a
few more shots
from the cold snap
that now ended. This photo
and the next two show
Leonardo Marina and are
from Doug Corbet. Above,
one had to wonder how
birds survived temperatures
that never climbed above
freezing and were often
in the teens or lower.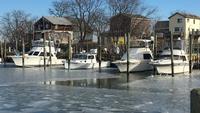 Was too cold to fish, he said.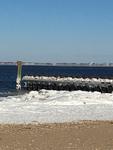 About 9 inches
of snow fell in this
area on Jan. 4, during
the final days
of the cold. Some
areas in New Jersey
had more.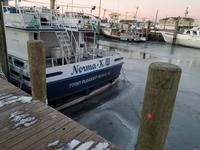 A few final shots
of the severe, two-week
cold snap from about
Christmas to the weekend
after New Year's. The
party boat Norma-K III,
Point Pleasant Beach,
was going to resume
blackfishing on Jan. 7,
but 3 to 4 inches of ice
that surrounded the boat
in the slip prevented that.
These photos are
from that day.
Visit Norma-K III's
website.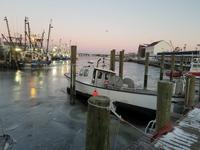 Rare for the ice to be
that thick at the
docks, the boat reported.
The tide was also
very low that morning.
That's maybe noticeable
in this photo because
maybe that boat's
touching bottom. Or maybe
the ice was doing
that. But the low water
was another reason
to keep the Norma-K III
in port. Even if the vessel
could break through the
ice, the tide was
another hazard.
Visit Norma-K III's
website.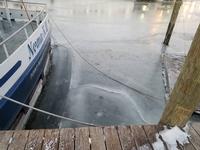 The crew hoped
to resume daily trips
for the tautog on Jan. 9,
when a January thaw
was supposed to begin.
Visit Norma-K III's
website.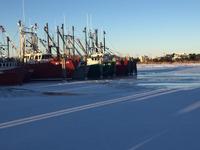 And here are shots
of the freeze from
the party boat
Miss Barnegat Light.
Ice had boats locked in
at the marina here, too.
Click the photos
to enlarge them.
Visit Miss Barnegat
Light's website.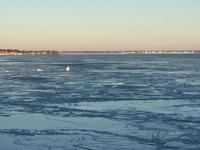 Barnegat Bay was
completely frozen over.
Visit Miss Barnegat Light's
website.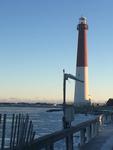 The ice was
all the way up to
Barnegat Lighthouse
at Barnegat Inlet.
The Miss Barnegat Light
was on winter break
and resumes fishing
around Memorial Day
each year, beginning
with bluefishing.
Visit Miss Barnegat
Light's website.