Fishing Reports

Visitors' Reports
Got a report, question or
comment? Post it here.





New Jersey
Saltwater Fishing Report
Inshore fishing from the rivers
and bays to the ocean.

UPDATED EVERY
MONDAY AND THURSDAY





Out-of-State Fishing Report
Covers out-of-state saltwater
fishing in late fall and winter.

UPDATED ON TUESDAYS





Freshwater Fishing Report
Fishing on lakes, ponds,
rivers and streams in
Jersey and nearby.

UPDATED ON WEDNESDAYS





Seasonal Fishing Reports

New Jersey
Offshore Fishing Report
Covers the blue water
from June to November.

Delaware Bay Fishing Report
Runs from April to December.





Fishing Reports
Archives

New Jersey Inshore Saltwater
Fishing Reports Archives

New Jersey Offshore
Fishing Reports Archives

Delaware Bay
Fishing Reports Archives

New Jersey Freshwater
Fishing Reports Archives

Offseason Fishing Reports Archives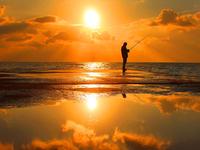 Fishing Photos

Check Out More Photos

Snap a good shot?
Send it to us to post. Click here.





Product Reviews
Posted Every Wednesday

Get Decked
Turn a truck
into a tackle box.
Posted 3/20

More Product Reviews





New Jersey Fisheries Watch
Updated Every Wednesday

Spring
Trout Stocking Underway

MAFMC To Meet
April 8-11 at Avalon

>>More Fisheries Watch<<





Fishing Regs
2018 NJ Saltwater Fishing
Regulations Note: the 2018 regs remain in effect until 2019's are passed.


2018 NJ Freshwater Fishing
Regulations Note: Ditto.





Events

2019 New Jersey Area
Fishing & Outdoor Shows

2019 NJ Fishing Flea Markets

2018 New Jersey Fishing Tournaments
The 2019 tournaments are posted
in early spring.