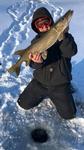 This cold weather
was a boon to ice-fishing
in the Adirondacks for
customers from FISH307.com
in the village of Lake George.
Above, a northern pike
from the ice in the
mountains. This shot
and the next were shared
on the store's Facebook page.
Visit FISH307.com.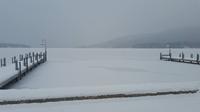 That's Lake George
with ice on Dec. 30.
Anglers were already
fishing from the ice there.
George, a big lake that's
always the final
to freeze in the 'dacks,
failed to freeze until
later in winter in previous
years recently. FISH307.com
is both an online store
and a brick-and-mortar shop
with all ice-fishing gear.
The physical shop also
carries all ice-fishing bait.
Visit FISH307.com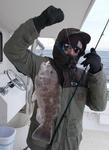 Blackfishing
on South Jersey's
Stray Cat from Longport.
"Still going," the captain
wrote in an email
with these photos the
day after New Year's.
Visit Stray Cat's
website.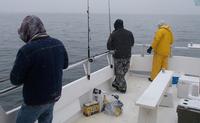 That's apparently
the day before
New Year's Eve aboard,
because if you click
the shot to enlarge it, a
dusting of snow can be seen.
A couple of inches
of snow fell on that date.
Weather was brutally cold,
but seas were calm,
and winter is blackfish weather.
Visit Stray Cat's
website.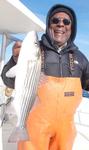 If striped bass
were still around,
the boat would fish
for them, too.
Visit Stray Cat's
website.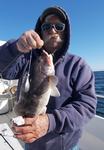 But on open-boat trips
that were sailing, blackfish
were the target, because
that's what customers wanted.
If stripers popped up
on those trips, the
boat would get after them.
Charters were also available,
and the vessel was going
to fish through Jan. 17 before
going on winter break.
Visit Stray Cat's
website.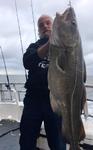 Weather was cold, for sure,
but some trips fished
during New Year's weekend.
The next two rows
of photos were posted then.
That's a 31-pound cod
on the party boat
Jamaica II, Brielle,
on that Saturday.
Visit Jamaica II's
website.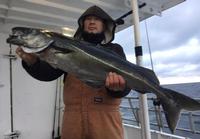 A pollock on the outing.
Nine-, 12- and 14-hour trips
are wreck-fishing at
the Mudhole.
Visit Jamaica II's
website.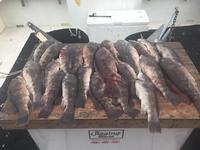 Blackfishing ground out
the tautog to 9 pounds
on the ocean with
Fishin' Fever Sportfishing,
Cape May, on that
Friday and Saturday.
Visit Fishin' Fever
Sportfishing's website.