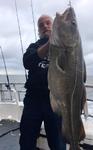 Weather was cold, for sure,
but some trips fished
during New Year's weekend.
The next two rows
of photos were posted then.
That's a 31-pound cod
on the party boat
Jamaica II, Brielle,
on that Saturday.
Visit Jamaica II's
website.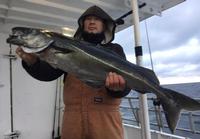 A pollock on the outing.
Nine-, 12- and 14-hour trips
are wreck-fishing at
the Mudhole.
Visit Jamaica II's
website.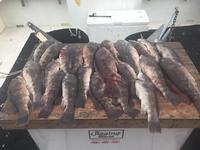 Blackfishing ground out
the tautog to 9 pounds
on the ocean with
Fishin' Fever Sportfishing,
Cape May, on that
Friday and Saturday.
Visit Fishin' Fever
Sportfishing's website.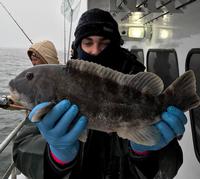 Fishing for blackfish
that weekend
on the party boat
Big Mohawk, Belmar.
Visit Big Mohawk's
website.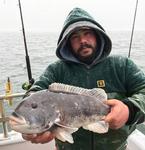 A little snow
fell in the cold
that Saturday aboard.
Visit Big Mohawk's
website.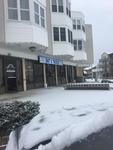 The snow at Sea Isle
Bait & Tackle,
Sea Isle City, that day.
Visit Sea Isle
Bait & Tackle's
website.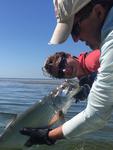 Annual traveling charters
to the Florida Keys began with
Jersey Cape Guide Service
from Sea Isle City, N.J.
That's a tarpon from the
angling during the week between
Christmas and New Year's.
The trips fish every
Christmas to Easter.
Visit Jersey Cape
Guide Service's
website.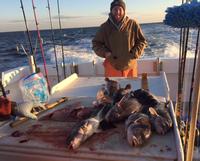 Father and son
Bob and Mike Fox
swung in a mess
of blackfish on a trip from
Point Pleasant Beach
in the cold, Bob said.
Photo from him.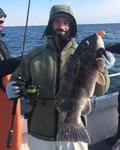 Blackfishing with
Last Lady Fishing Charters,
Neptune, toward the beginning
of frigid cold late in the year.
The boat was sailing
all winter, available for
charters for blackfish,
cod and ling. If you
have a group of three
or four, call the boat,
and the captain will
put together a trip.
Um, after weather warms
a little. The boat became
locked in among 4 inches
of ice at the slip.
Visit Last Lady
Fishing Charters'
website.