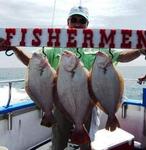 Limit of fluke
on the party boat
Fishermen,
Atlantic Highlands.
Visit Fishermen's
website.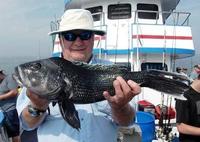 Sea bass were mixed in.
Visit Fishermen's
website.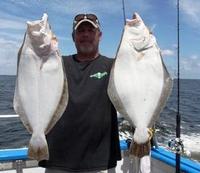 Trips fished for fluke
daily on the ocean.
Visit Fishermen's
website.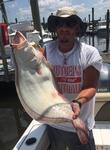 Jason Parry's
9.8-pound fluke from
Shrewsbury Rocks on a charter.
The fish bit a combo
of a Gulp swimming mullet
and a smelt on the hook.
Photo from him.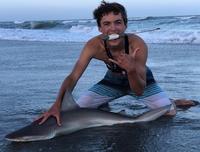 A shark released
in the surf. This shot and the
next are from Sea Isle
Bait & Tackle, Sea Isle City.
Many shark species
in the surf must be released,
but lots bit.
Visit Sea Isle
Bait & Tackle's
website.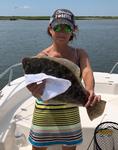 A summer flounder,
a keeper, or fluke from the
back bay. Lots of throwbacks
swam the bay, but some
keepers were around,
the shop reported.
Follow Sea Isle
Bait & Tackle
on Facebook.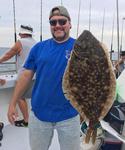 Fluke fishing on the
ocean on the party boat
Gambler, Point Pleasant Beach.
Visit Gambler's
website.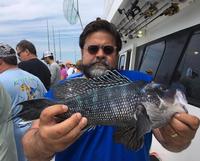 Sometimes sea bass
were in the mix. Anglers
didn't need to do anything
special to catch sea bass.
They just fished for fluke,
and sometimes a sea bass
would pounce on the hook.
Visit Gambler's
website.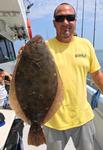 The trips sailed
twice daily.
Visit Gambler's
website.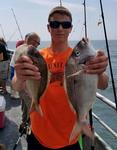 Porgies on the
party boat Dauntless,
Point Pleasant Beach.
Daily bottom-fishing trips
bucketed them, sea bass,
triggerfish and a few fluke
from the ocean.
Visit Dauntless's
website.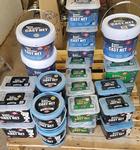 Schooling baitfish
including small peanut bunker,
mullet and spots began
to be seen in abundance,
like happens this time
of year. They grow quickly,
and then anglers would
net them to keep
live for bait. So castnets
were stocked at Absecon Bay
Sportsman Center, Absecon.
Every mesh size, diameter and
weight was on hand, and so
was everything needed to keep
the bait, like pens and aerators.
Visit Absecon Bay
Sportsman Center's
website.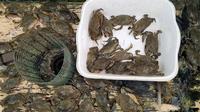 Crabs began to shed,
and shedder crabs started
to arrive at the shop.
The store keeps them
for bait, and also raises
them to sell as soft-shell
crabs for eating when
they bust out of
their shells.
Keep up with the supply
on Absecon Bay's soft-shell
Facebook page.