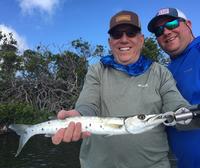 A barracuda
in the Everglades in
February on one of the
traveling charters to the
Florida Keys that Jersey Cape
Guide Service, Sea Isle City, N.J.,
runs each winter to
early spring.
Visit Jersey Cape
Guide Service's website.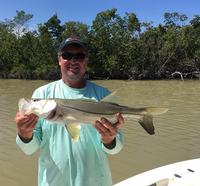 That's a snook
from the Glades.
Visit Jersey Cape
Guide Service's website.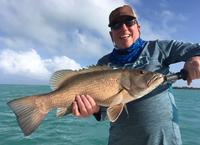 A mangrove snapper
from the bay. That is
a big one, humongous.
The trips fish until
about Easter each year.
Easter is late this year,
so Jersey Cape might
be concentrating on
Jersey by then.
Visit Jersey Cape
Guide Service's website.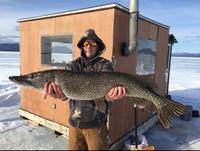 Yikes. An almost
4-foot northern pike,
a 46-incher, from the ice
on Great Sacandaga Lake,
N.Y., in February. Photos from
Fuel-n-Food in nearby Mayfield.
Visit Fuel-n-Food's
website.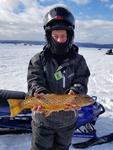 A 21-inch brown trout
from the ice on Sacandaga.
Visit Fuel-n-Food's
website.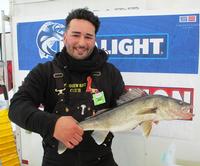 The store held
an annual Walleye Challenge
ice-fishing contest on
Sacandaga that weekend,
and this 5.45-pound
26-incher won. Other catches
lately from local waters
included decent brown trout
fishing at Indian Lake,
lake trout, not a lot,
but sizable, from Canada
Lake and lots of lakers, mostly
undersized but plentiful,
from Piseco Lake, all
on the ice. Fuel-n-Food
is a gas station and café
and includes a full selection
of ice-fishing bait and tackle.
The crew can point you
in the right direction
for fishing.
Visit Fuel-n-Food's
website.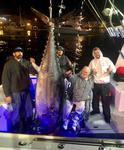 Giant bluefin tuna
at Outer Banks Marina
in Wanchese, N.C.
See more photos
from the marina below
of a couple of famous
boats sailing for the tuna
this winter.
Visit Outer Banks
Marina's website.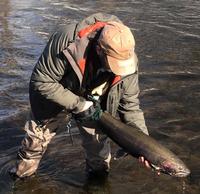 February and the
worst of winter weather
were almost finished,
and March can offer
some great steelhead
fishing on rivers
including the Salmon
in upstate N.Y. with
Jay Peck Guide Service.
Jay, shown above, already
was getting out for the
angling more than before.
See more about
Jay Peck.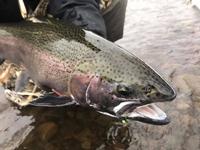 Hot Stoneflies,
a stonefly with
some bright color,
were catching for him.
Stones crawl around
this time of season.
Winter to early spring
is steelheading time
on these Lake Ontario
tributaries.
Visit Jay Peck
Guide Service's
website.