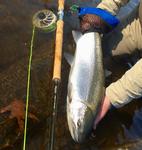 Steelhead fishing
seemed about to "pop"
in upstate N.Y.'s rivers
and streams, including
Salmon River, with
Jay Peck Guide Service.
Jay specializes in
fly-fishing, and books
trips that fish with
conventional tackle
with his other guides.
See more about
Jay Peck.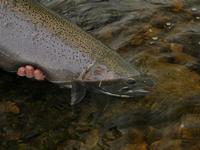 Weather was warming,
and that usually
triggers some of the
best steelheading
of the year. The fishing
is world-class on these waters.
Visit Jay Peck
Guide Service's
website.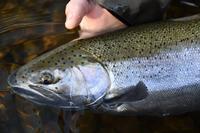 They're great fish.
See more about
Jay Peck.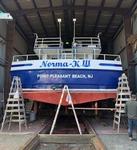 Getting ready.
The Norma-K III,
Point Pleasant Beach,
was going to
begin fishing with
daily trips for blackfish
starting April 1, opening
day of blackfish season.
Visit Norma-K III's
website.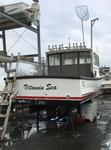 The Vitamin Sea,
Keyport, was expected
to be splashed during
March's final week, ready
to fish for striped bass
on Raritan Bay in the
first week of April
on charters
and open-boat trips.
Book dates while
they're available. They
do fill. The first
open trips were set
for Saturday and Sunday,
April 6 and 7.
Visit Vitamin Sea's
website.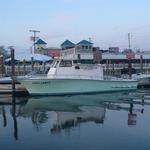 The Last Lady II,
Neptune, would fish "very
soon," a report said.
The first trips were going
to sail for cod and blackfish
in April. The next would
run for striped bass
and sea bass.
Book a charter before
April, and lock in
2018's prices.
Visit Last Lady
Fishing Charters'
website.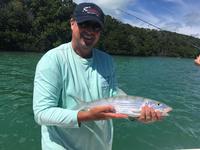 A bonefish on one
of the traveling charters
to the Florida Keys that
Jersey Cape Guide Service,
Sea Isle City, N.J.,
runs this time of year.
Visit Jersey Cape
Guide Service's website.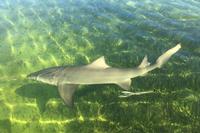 A shark that
was sight-casted to
at shallow flats
on the trips.
Visit Jersey Cape
Guide Service's website.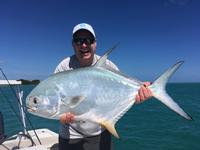 A 25-pound permit
on one of the outings.
Jersey Cape runs the trips
from Christmas to Easter
each year.
Visit Jersey Cape
Guide Service's website.