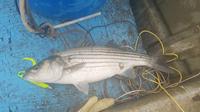 It begins!
Capt. Dave Showell,
Absecon Bay Sportsman Center,
took his season's first
trip for striped bass
and scored, landing 10,
on Sept. 13. This 23-inch
throwback was the first.
Where he fished
was undisclosed, but
probably in the
Mullica River area.
Visit Absecon Bay
Sportsman Center's
website.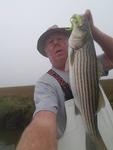 A 27-incher, a slot,
on the trip. Dave had
bonus tags to keep
a slot, and offered a
discount on charters
for the fishing in
the early season.
Gulp Nemesis baits
caught these fish
and worked well.
Visit Absecon Bay
Sportsman Center's
website.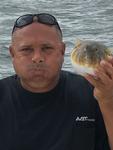 A blowfish from Barnegat Bay
on the Hi Flier, Barnegat.
That's Capt. Dave DeGennaro.
Open-boat trips and
charters aboard are fishing
for the delicious blowfish
but also live-grass-shrimping
for weakfish, kingfish
and a dozen other species
you might encounter.
Visit Hi Flier's
website.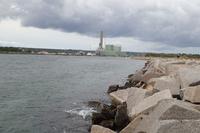 Cape Cod Canal in Massachusetts.
Capt. Dave Vollenweider,
Live to Fish Guide Service,
Montvale, N.J., the freshwater
guide, took his first-ever
trip there to fish
for striped bass.
Visit Live to Fish
Guide Service's
website.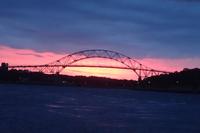 The canal connects
Cape Cod Bay
and Buzzards Bay and
sometimes is a highway
for big stripers
to 50 pounds and heavier.
Visit Live to Fish
Guide Service's
website.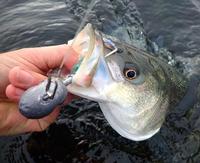 The fishing was slow
on the days he went,
and he released one
small striper. He saw
small bonito caught.
But he'll probably return,
and the fishing can
be good from July
to October, until the
bass migrate south.
Driving took Dave 4 hours
to reach this
world-class striper spot
for fishing from shore.
Visit Live to Fish
Guide Service's
website.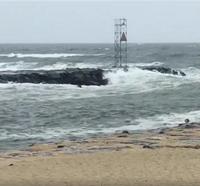 Shark River Inlet
on Sunday, Sept. 9, in seas
that kept the party boat
Big Mohawk from Belmar's
daily fluke fishing docked.
Remnants of the year's
first tropical storm
canceled much fishing
beginning that Friday.
Watch a video
of the inlet from
Big Mohawk.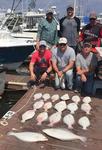 Fluking was great
through Thursday, Sept. 6,
on the Vitamin Sea,
Keyport. This trip that day
limited out. Afterward,
remnants of a tropical
storm began that nixed
most fishing for days.
Visit Vitamin Sea's
website.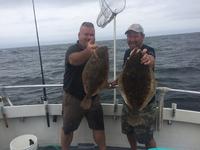 Wind and seas
were rough, but a fluke
trip was gotten in on
the next day, Sept. 7,
with Last Lady Fishing
Charters, Neptune. Afterward,
weather was expected
to keep the boat docked
until mid-week, unless the
next storm, remnants of
a hurricane, canceled fishing
again. This trip worked hard
for a few keepers
in "not idle conditions,"
Last Lady reported.
Scheduled fishing aboard
included individual-reservation
trips for fluke until
fluke season would close
beginning Sept. 23.
Visit Last Lady
Fishing Charters'
website.