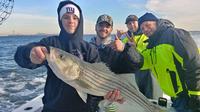 Getting it done
with Manicsportfishing, Keyport.
Striped bass fishing
wasn't insane on this trip
Friday, a report said, but
the anglers limited out.
Charters and open-boat
trips are fishing.
Follow Manic
on Facebook.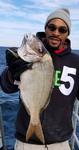 That is a big porgy.
On the party boat Dauntless,
Point Pleasant Beach.
Visit Dauntless's
website.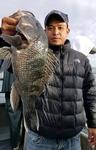 Sea bass aboard.
Visit Dauntless's
website.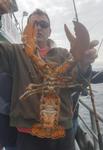 Bonus on the trip!
Visit Dauntless's
website.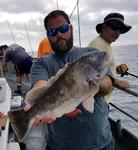 Blackfish aboard.
Trips are bottom-fishing
daily on the ocean.
Visit Dauntless's
website.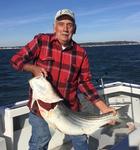 Big striped bass
with Sour Kraut Sportfishing,
Leonardo, in November.
Overs kept biting in the
ocean aboard, and unders
began mixing in.
When weather was
too rough to fish the
ocean, trips could fish
Raritan Bay for mostly
throwbacks but a few
keepers.
Visit Sour Kraut
Sportfishing's website.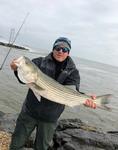 Michael Hindley's
15-pound, 33-inch
striped bass
that he angled from
Shark River Inlet's
south jetty on
a rubber shad.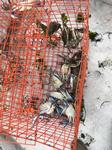 Blueclaw crabs. In November.
This shot and the next
are from Sea Isle Bait &
Tackle, Sea Isle City.
Visit Sea Isle
Bait & Tackle's
website.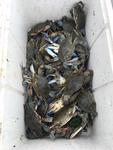 The crabber who
made this catch nabbed
26 keepers in two
commercial pots left
in the water
overnight. The crabber
stopped at the store to
buy a dozen frozen
bunker for bait, and
was then headed to
hand-line them for
crabs, saying the crabbing
was awesome and
nobody else was doing
it this late in the year.
Follow Sea Isle
Bait & Tackle
on Facebook.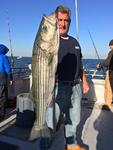 Some striped bass
from the ocean
in a break in weather
Wednesday and Thursday
on the party boat
Gambler,
Point Pleasant Beach.
Some huge, and wise,
a report said, stripers
were around. Anglers had
to work for them.
But the stripers caught
were rarely less
than 30 pounds.
Visit Gambler's
website.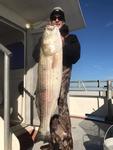 The fish, a few,
were angled on
livelined bunker, fresh, dead
bunker and big
crocodile spoons.
Each of those caught
about equally. Patience
was a must. If the fish
aren't biting, keep fishing,
because you want your
line in the water when
they do. Trips are fishing
for stripers daily.
Friday's trip was expected
to be weathered out.
But forecasts looked
good for the trips
Saturday and Sunday.
Visit Gambler's
website.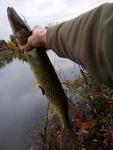 That's a big one.
A chain pickerel
that George Horvath from
Trenton heaved in.