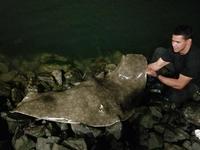 A big ray that the
angler released.
Follow One Stop
on Facebook.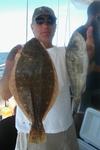 Dave Tronieri
with a fluke and a
sea bass on the party
boat Jamaica II, Brielle,
on the ocean in July.
This shot and the next
are from him. The fluking was
picky that day, he said, but
some big were belted
in the morning, and he
managed a mixed bag: fluke,
ling, sea bass and
sea robins.
Visit Jamaica II's
website.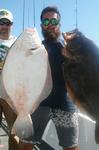 That's not Dave,
but he also sent this
shot of the trip's
pool-winning fluke.
Two 6-pound 7-ouncers
tied to win,
the boat reported.
Visit Jamaica II's
website.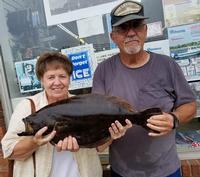 A 6.76-pound 28-inch fluke
that was banked from shore.
Photo from Julian's
Bait & Tackle, Atlantic Highlands.
The angler, at left, also
beached a 19-incher, and
fishing for fluke from the
surf could be good on Sandy Hook
and Raritan bays, the store
reported. Ron from the shop,
who gives most of Julian's
reports, is a surf angler and
was hooking them.
Follow Julian's
on Facebook.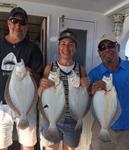 Fluke on the party boat
Atlantic Star, Atlantic Highlands.
Visit Atlantic Star's
website.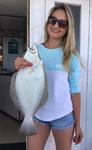 Trips sailed for them
twice daily
on Raritan and
Sandy Hook bays.
Visit Atlantic Star's
website.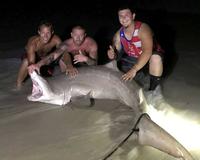 Wow.
A shark released
in the surf. Photo from
Hook House Bait & Tackle,
Toms River. Shark species
in the surf are often
required to be let go.
Visit Hook House
Bait & Tackle's
website.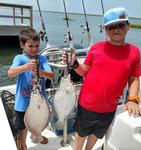 Fins and Feathers Outfitters,
Avalon, scored a good week
of fishing for summer flounder
on the back bay, a report
from Fins said in July.
Visit Fins and Feathers
Outfitters' website.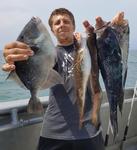 Bottom-fishing
on the party boat
Dauntless, Point Pleasant Beach,
scooped up a variety
of porgies, sea bass, ling,
triggerfish and winter flounder
from the ocean. This angler
aboard is holding a trigger,
two ling and a couple
of sea bass. Customers
averaged 10 to 25
fish apiece.
Visit Dauntless's
website.