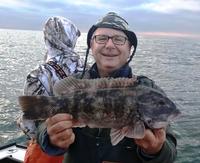 The Vitamin Sea, Keyport,
began blackfishing, after striped
bass fishing previously.
Visit Vitamin Sea's
website.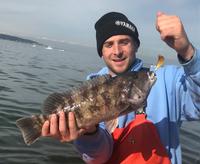 Jigs caught well,
when current was jiggable.
Visit Vitamin Sea's
website.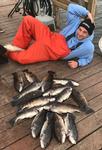 Charters and open-boat
trips are fishing.
Visit Vitamin Sea's
website.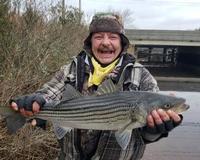 Is it that time of year already?!
A striped bass from the South Branch
of the Forked River. Actually, the fish
was from the cold-water side of
that creek that feeds the nuclear plant.
So we're good. Photo from Grizz's
Bait & Tackle in Forked River.
In late winter, when almost no
fish will bite in cold water,
anglers fish for stripers in the
warm-water side that discharges
from the plant.
Follow Grizz's
on Facebook.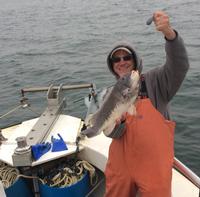 Blackfishing with Last Lady
Fishing Charters, Neptune,
during December's first
weekend on the ocean.
Charters and individual-
reservation trips
are steaming for them.
Visit Last Lady
Fishing Charters'
website.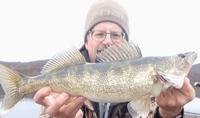 A walleye that
Capt. Dave Vollenweider from
Live to Fish Guide Service,
the freshwataer guide, trolled
at Monksville Reservoir. He thought
he'd troll the impoundment
like he does at Round Valley
Reservoir, and maybe hook
trout or walleyes. He boated
two walleyes.
Visit Live to Fish
Guide Service's
website.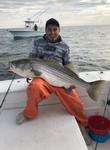 A striped bass that
Lou Tiernan boated
on the ocean a little
south of Sea Isle City on
Nov. 30. Photo from him.
He made a quick trip, and
it paid off, he said. Solid action
the whole time, and this
big one topped off the
outing, he said.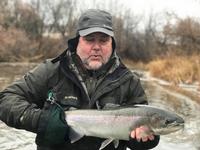 Steelhead
in the mix during
brown trout fishing
on upstate New York
rivers and streams with
Jay Peck Guide Service.
See more about
Jay Peck.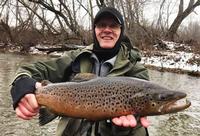 This is why
the trips fish. The browns
can be huge, growing large
because they summer in
Lake Ontario. Forage is more
abundant in the rivers and streams,
around Rochester, in fall
and winter. A few steelheads
also swim the waters. Jay's
guides are targeting steelheads
2 hours east in Salmon River,
and he'll return to that angling
throughout winter once the
trout waters freeze.
Salmon River is a larger
river that never
completely freezes over.
Visit Jay Peck
Guide Service's
website.