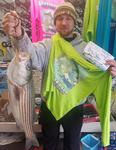 Was a snowy morning,
but the year's first
striped bass was checked in
on March 1, opening day of striper
season in bays and rivers, at
Absecon Bay Sportsman
Center, Absecon.
Visit Absecon Bay
Sportsman Center's
website.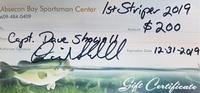 The angler won
a $200 gift certificate to the
shop for the first. More prizes
were available, and click the
link below to see.
See the prizes.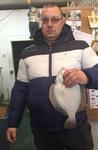 The year's first
winter flounder the next day,
March 2, at Hook House Bait &
Tackle, Toms River. Flounder season
also opened on March 1,
and the angler won a $50
gift certificate to the store for the first.
A $100 certificate was up for grabs
for the first striper at the store.
Visit Hook House
Bait & Tackle's
website.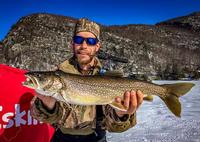 A lake trout
from the ice in the
Adirondack Mountains, N.Y.
Photos from FISH307.com,
the ice-fishing superstore,
both an online one and
a brick-and-mortar one.
The physical shop is
located in Lake George,
at the southern entrance
to the mountains.
Visit FISH307.com.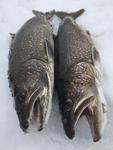 More lakers.
Most of these shots
are from Lake George.
Plenty of fishable ice
remained there and
on all the lakes in the
mountains. But for how long?
Visit FISH307.com.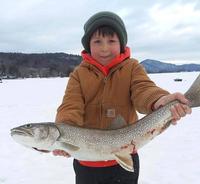 That's a 34-incher.
Taller than the kid?
Visit FISH307.com.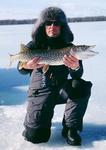 A northern pike
from the ice
in the 'dacks.
Visit FISH307.com.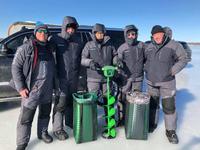 Making a day of it.
Visit FISH307.com.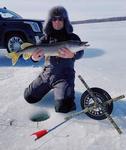 Another northern.
Obviously, this one
was tip-upped, and the
laker in the first
shot was jigged on
a rod. Good sport.
Visit FISH307.com.