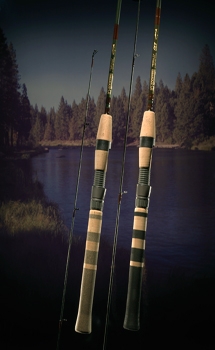 Trout fishing is about finesse.
Using precision for wary catches.

Delicate fishing.
But an angler can only fish with as much finesse as the rod enables.
Leave it to G. Loomis to introduce
a rod that performs the task.
The company's Trout Series
Spinning Rods, introduced this year, were built to help serious anglers enjoy trouting, and be successful
at the sport, with the lightest, most sensitive rods, G. Loomis says.
The company had already produced Classic Trout and Panfish Spinning Rods, a series of somewhat heavier rods, meant for multiple small species, from freshwater trout, panfish and bass to saltwater shad, bonefish and seatrout.
But the Trout Series Spinning Rods are specifically made for lighter fishing for small trout.
Still, the Trout Series can handle surprisingly large trout, the company says, but in currents not too heavy and smaller waters.
The rods can be fished with lures like small jigs or spoons, but are ideal for fishing a single egg when the bite is light, for example.
Two versions are available: four models made with GLX graphite,
and 15 built from a G. Loomis proprietary fiber/graphite blend.
The series is available in 5-foot 9-inch rods to 7-foot 6-inch rods,
ranging from ultra-light to light action.

They're built for 1- to 8-pound test, and some are one piece,
and some are two.

Both the graphite and fiber/graphite blend rods feature "up-locking"
reel seats and cork fore grips.
The graphite rods come with REC Recoil Guides and a rear grip
that's a a combo of cork and foam rings that alternate.
The blend rods feature Fuji Alconite Guides and a combo cork/composite rear grip in rings.
A great little rod for fishing spooky fish in clear waters, G. Loomis says.
For more info, visit the G. Loomis Trout Series Spinning Rods
Web page.