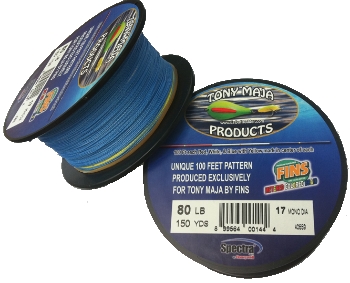 Mention the name Tony Maja to a saltwater angler,
and one thing
comes to mind.
Trolling for
striped bass.
Tony Maja's
Custom Bunker Spoons, E-Z Outrodders and Custom Bunker Spoon Rods took
striper trolling by
storm in recent years.
The fishing almost got to the point where if you had the Maja tackle,
the only other thing you needed was a boat, right?
Almost.
You still needed the fishing line.
Until now.
Tony Maja Products is introducing its own braided fishing line for trolling.
The 80-pound braid, produced by Fins Situational Braids for Maja,
is made from 100-percent Spectra Fiber

The braid is colored red, white and blue in 100-foot sections for each color, with a yellow, 50-foot marker included in the middle of each section of color.
The braid features great color retention, the company says, and is available in 150-, 300- and 3,000-yard spools.
For more info, visit Tony Maja's E-Z Outrodder Web site.