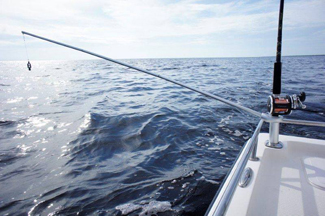 Catch more fish.
That's the Outrigger Unlimited motto.
The company's outriggers are unique in ways that seem geared toward that.
Of course, outriggers allow bait or lures to be trolled away from the boat, covering more water.
These outriggers can be used on small boats, an inexpensive alternative, but can also be used on large boats, as a secondary bait spreader.
No modifications of the boat are required to install the outriggers.
That's because the outriggers are simply placed in the boat's existing rod holders.
Plus, the rod holders can still be used.
The outrigger arms lock in place, extending over the water, for fishing.
But to reload the outrigger, the arm is swung into the cockpit, for safety and convenience.
Some of the advantages of these outriggers are also that they're worry-free for sailing under bridges, and are portable, disassembling in seconds.
They're made from aluminum and anodized parts for light weight and corrosion resistance.
So, some of the advantages are that the outriggers spread more lines around the boat, are inexpensive and very convenient.
All of that adds up to catching more fish.
For more info, visit the Outrigger Unlimited website.