Tony Maja Products, maker of bunker spoons and all the tackle to troll them for striped bass, and S&S Bucktails have partnered to make the Magic Mojo.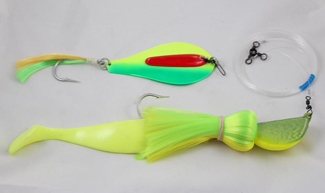 Introduced this year, it's a rattling Mojo with a bunker spoon.

The spoon is a Maja, and S&S made the Mojo.

S&S is especially known for making rattling bucktails or jigs.
This rig is sort of an oversized version of a rattling jig, combined with the spoon.
The combo seemed bound to be created.
Maja's spoons became popular for striper fishing in recent years.

So did Mojos, a weighted lure that could be used to attach other lures including bunker spoons to sink them deeper.

Mojos didn't rattle previously.

Mojos, the non-rattling ones, became popular in the Northeast during only the past couple of years.

They had been popular for striper fishing in Virginia and neighboring states previously.
Two popular lures for stripers, combined.
Maja and S&S -- both New Jersey companies, by the way -- field-tested the Magic Mojo last fall.
The combo was deadly for trolling striped bass 50 pounds and heavier, says Tony Arcabascio, Maja's owner, one of the most respected striper trollers.
The Magic Mojo comes in different sizes and colors to "match the hatch."
For more info, visit Tony Maja's website.