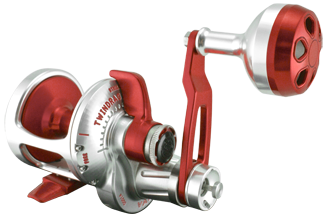 Accurate is all about small reels for big fish.
The BV-400 Reel is no different and has been added to the company's Boss Valiant line of reels.
The reel comes in one-speed, the BV-400, and, shown in the photo, two-speed, the BV2-400.
Made for big game like tuna, billfish and mahi mahi, both are essentially a wider version of the BV-300 that was introduced about a year ago.
The wider spool on the 400s provides more line capacity.
All Valiants are made for braided line, and the 400s can hold 325 yards of 50-pound test.
The 300 can hold 325 yards of 30-pound.
The company reportedly is working on a 500.
The aluminum reels, compact yet rugged, are uniquely engineered to deliver the structural integrity of reels twice their size, the company says.
The 400s can handle a 200-pound tuna, one reviewer said.
Yet the reels are lightweight, both versions of the 400 weighing 14 ounces.
The 400s also feature the company's Twin Drag System that Accurate's become known for.

Other features are also notable, including a clicker that was added, a huge anti-reverse bearing that was added and the "power handle."
The 400s offer unsurpassed smoothness, castability and power, Accurate says.

For details, visit Accurate's website.