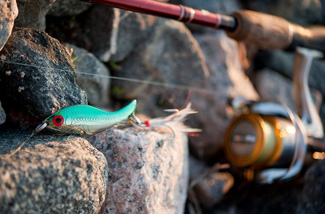 Field and Stream named Al's Goldfish one of the 50 greatest lures of all time.
After introducing the freshwater, gold-plated spoons, shaped like a baitfish, in 1952, the manufacturer, Al's Goldfish Lure Company, sold a million of them per year beginning in 1973.
No lure has become that popular unless it catches fish.
The lure especially became known for catching freshwater trout.
But why wouldn't the lure's wobbly action like an injured baitfish, ability to cast far and metal durability work in saltwater?
The Salt Water Al's Goldfish is being introduced.
An angler might smack his or her own forehead and think, of course, an Al's for salt.
Metal lures like this are already popular for saltwater fish like blues and striped bass, and the Goldfish has long been proven to make fish attack.
The Salt Water Goldfish has been built to stand up to the tougher saltwater fish and environment.
The nickel-plated, marine-grade-brass lures feature 100-pound-test rings, hard-baked paints and 3/0 VMC hooks.
They're available in ¾- and 1-1/4-ounce sizes in a variety of saltwater colors like bunker or chartreuse.
After 65 years, one of Field & Stream's 50 greatest lures is coming to saltwater, the company says.
For more info about the lures, visit Al's Goldfish's website.