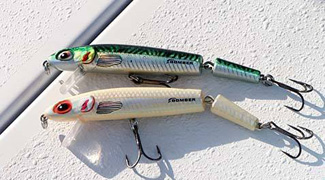 Anglers sometimes talk about top-water lures like you're supposed to know what that means.
Maybe you don't know what that means.
Top-waters can be a variety of lures that swim just under the water surface.
They don't swim on top of the surface, and those would be lures including poppers, chuggers and others.
Anglers can be fond of top-waters, because the lures can draw explosive, visual attacks from fish.
You might even hear the strike.
Anything extra like the sight or the sound of a fish smacking the lure adds to the art.
But a visual can also excite a fish to pounce.
And that's the point of the wake.
The 5-3/8-inch, ¾-ounce, floating, rattling lure, available in 10 colors, swims in a motion that creates a wake when the rod tip is fished high.
With the rod tip high, the lure scurries just under the surface.
A faster retrieve with the rod tip down swims the lure a few inches below the surface.
Of course, the lure can be fished in other ways you can think of, like a darting motion like a jerk bait.
Striped bass anglers might be excited to see this lure.
So might redfish anglers, and the lure is especially meant for those catches.
But the Wake Minnow will also beat freshwater fish, including inland stripers, muskies, pike and largemouth bass, the company notes.

The Wake Minnow is a casting marvel, Bomber says.
The lure at press time was already arriving at stores but was yet to be included on Bomber's website.
Look for the lure to be included soon.
Also watch a video about the Bomber Jointed Wake Minnow.