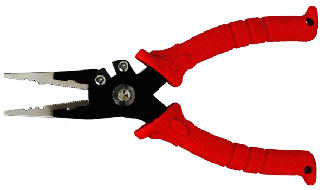 Something about Bubba Blade fillet knives grabbed attention when they first hit the market.
Maybe the name was a reason.
Bubba.
Maybe the look was, too.
Those red, kind of big, rubber handles.
It all looked bold, aggressive and made you think: these could be worth a look.
So now the company makes a set of fishing pliers.
Bubba Blade's Fishing Pliers feature the same handles.
The patented, "no-slip-grip" handles are meant to keep Bubba tools firmly in hand.
The design of the pliers is meant to be the ultimate in control, strength and durability.
Bubba pliers feature an aircraft-aluminum frame for light weight and stainless steel jaws coated with titanium for strength and durability.
The cutter is tungsten, and the jaws include crimpers for leader crimps or split shots.
The pliers come with a lanyard and a sheath made from nylon.
The price? Only $49.95.
You could spend much more on a set of fishing pliers.
But these are Bubba.

Worth a look.
For more info, visit Bubba Blades' website.