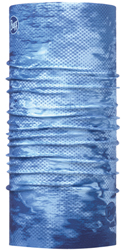 Have you seen the news that sunscreen might be killing coral reefs?
What's the sunscreen doing to your body?
The company Buff USA, founded in 1991 -- more than 25 years ago -- introduced the first tubular headwear meant to protect skin from the sun.
That eliminated the need for some sunscreen.
You've seen the tubes by now.
They're worn around the neck or can be pulled up to also cover your nose and face to block out most of the sun's UV rays for skin protection.
But since introducing the tubes, Buff also introduced dozens of similar headgear, from caps to balaclavas, hair ties and more.
The company now also makes arm sleeves, gloves and more for sun protection.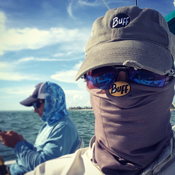 This year, the company is introducing many varieties including junior apparel for kids, insect shields to protect against bugs like gnats, mosquitoes, black flies, ticks, chiggers and more, and new types of gloves.
It's all too much to list here, and you can see the company's large variety by clicking the link below to its website.
Buff makes skin-protecting apparel for anglers, hunters, kayakers, cyclists, runners, campers and anybody pursuing outdoor activities.
The clothing comes in many, many colors and color-patterns.
To see all the clothing or for more info, Visit Buff's website.