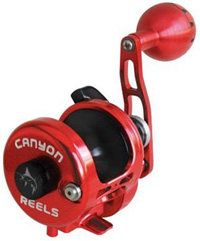 Canyon Reels builds jigging, trolling and spinning reels, several models in each of those categories, every one for a different purpose.
The HS-13 Cast Control is the company's jigging reel with spool control meant for reliable casts without backlash.
With a 5:1 gear ratio meant for cranking power or tough fish, the reel holds 500 yards of 30-pound braided line or 350 yards of 16-pound mono.
The reel is built to be dependable, accurate and durable, the company says, and comes with a lifetime frame warranty.
The frame is aluminum and the gears and springs are stainless steel.
HS-13 is available in six color schemes.
Canyon Reels is a family-run company from right here in Brick, N.J.
For more info about the HS-13, visit Canyon Reels' website.