Cool.
A couple of lures arrived in the mail from a company for a suggested product review, and they actually looked like I'd drop them into my tackle bag, my surf bag, to fish.
But the lures, Creek Chub's Striper Strike and Knuckle-Head, looked like old classics, not new.
Sure enough, they've been around a while, I confirmed.
Why would a company send old lures?
Being new is usually the reason for a review.
Better be another reason.
There is.
The Striper Strike, shown in the photo above, is an old standby, a fish-catcher for as long as we can remember, one surf catalog says online.
Anglers generally feel the same, a search around the web suggested.
Anglers in online forums say things like, "I love these plugs … (they're) one of the best poppers (and) drive striped bass and bluefish bonkers."
Another angler online questioned how to fish them, because the Striper Strike doesn't float.
Retrieve them fast enough to keep them on top to spray lots of water – a fast, splashy retrieve, another angler answered.
But another angler said he also lets the lure sink sometimes toward the bottom.
And bam! he wrote.
Yet elsewhere online said the lure features tough hardware and casts far.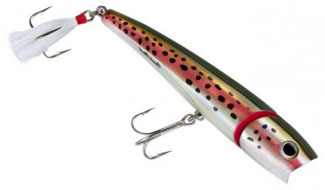 The Knuckle-Head, at left, is a popper but with a jointed head.
The joint gives the lure a totally unique swimming motion – a popping, chugging motion with the look of an injured gill, the company says.
It's also weighted, and so sinks unless retrieved.
This lure, one that might be even more well-known than the Striper Strike, also draws rave reviews online.
One called the Knuckle-Head one of two heavyweights in poppers.
A magazine that reviewed the lure soon after it was introduced in 2002 said the Knuckle-Head, Creek Chub's first new product in 20 years, was worth the wait.
The Knuckle-Head is meant for stripers, blues and redfish in saltwater, and for freshwater for any ferocious catch willing to attack along the water surface, namely muskies, the company says.

The Striper Strike is meant for saltwater stripers and blues.
So what's the reason the company sent old lures for a review?
I can't actually know, because Creek Chub never said.
But they're just good lures, and anglers could stand to be aware.
That's the reason, I think.
I have dropped them into my surf bag.
Cool.
For more info about Creek Chub, visit Lurenet.com, the parent company's website.