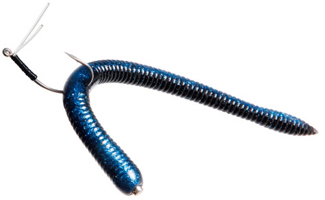 You might be old enough to remember when rubber worms could be fished two ways: Carolina- or Texas-rigged.
Or you might remember when rubber worms themselves were introduced.
That was in the late 1950s, when a machinist named Nick Creme from Ohio, in the hub of America's tire industry, invented the lure.
The things you can learn on Google.
Anyway, these days, you might not know each of the different ways rubber worms can be rigged.
The neko rig is one of the latest, and Daiwa this year teamed up with the company Gary Yamamoto Custom Baits to introduce a worm for the rig, the Daiwa Neko Worm.
Yamamoto became known for its Senko worms made for wacky-rigging.

That triggered a craze of different ways to rig rubber worms.
The neko rig is similar to the wacky.
However, in the neko rig, the head of the worm is weighted.
The worm is still hooked in the middle, like wacky worms are.
But the neko's weighted head – a "nail" weight gets impaled only in the head – gives the worm the appearance of grubbing along the bottom, with the tail floating up.
Other rigs do that but hook the worm in the head, not in the middle.
Here's one video that demonstrates the neko rig.
The weight, not unimportantly, also enables the neko to fish deeper depths, where the weightless wacky worm is impractical.
In a way, the neko seems to include a weight at the head that the wacky worm was always missing.
The wacky rig looked, well, wacky – the reason for its name – because the worm simply hung from a hook impaled in the center.
It caught, though.
So does the neko.
The Daiwa Neko Worm comes in three models: the 5-inch Neko Fat, with a thick body and bulbous tail; the 5.8-inch Neko Straight, with a thinner body and less bulbous tail; and the 6.6-inch Neko Straight, just a longer version of the straight.
The worm comes in a variety of colors that Yamamoto is famous for.

So what does the word "neko" mean?

A Japanese angler reportedly developed the rig and coined the name from the phrase neko soggi that means "the rig that catches all the fish like a vacuum cleaner."
No idea whether that's true.
Not everything can be learned from Google.
For more info about the worm, visit Daiwa's website.