This new knife, from Dexter Russell Cutlery, sports an uncommon feature that's maybe unique: you can mold the handle to match your grip.
Dip the handle in boiling water a couple of minutes, then dip it in cold water a second.
Then grip the handle, and it becomes molded.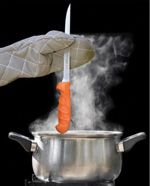 The molding makes the knife more comfortable and enhances control and precision for cutting, the company says.
"This makes it personal," it says.
The knife, named the UR-Cut Fillet Knife, made with a proprietary steel named Dexsteel, is available in 6-, 7- and 8-inch blade sizes.
The blade is thin and flexible and springs back to shape, the company says.
It stays sharp a good time and sharpens back to original, it says.
Look for the knife at tackle shops.
The company makes a variety of knives, cleavers, scrapers, sheaths, sharpeners, utensils and cutting boards and blocks.

For more info about the knife and the other products, visit Dexter Russell's website.