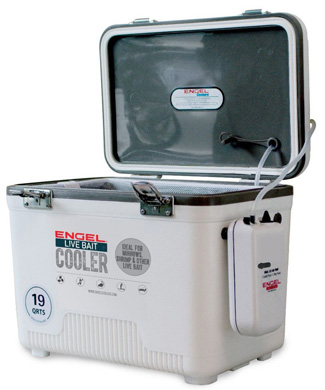 You probably heard about coolers that are made to store live bait like minnows or even larger baitfish like small mullet.
Many reviewers said this one's the best.
Engel's live bait cooler features thick plastic walls – "top-end," one reviewer said – thick insulation, marine-grade stainless-steel hardware and a built-in aerator.
The walls are rotomolded, if that means anything to you, and the insulation is polystyrene, sort of a beefed-up Styrofoam.
The aerator runs on two D batteries that can last all day but also comes with a 12-volt adaptor to plug into a vehicle cigarette lighter during traveling or plug into a boat.
An optional 120-volt power source can also be bought to run the aerator for a more extended time.
The aerator features two speeds, so you can rev it up when necessary, maybe when the bait is first plopped into the water, and slow it down later to conserve the batteries.
The lid gasket is heavy duty, both for insulation but also to keep water from splashing out, like when you're driving.
Hatches on the lid that fold down in a locked position prevent the splashing, too.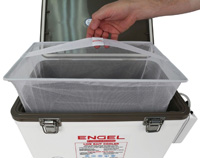 A cool feature is a "pull net" to pull the baitfish out of the water to easily grab one to hook.
That's the pull net in the photo at left.
The pull net also makes changing the water easier, obviously.
The insulation can both keep bait cool on hot days and keep bait from freezing on cold days, including when ice-fishing.
Ice-fishers, like the dudes in the photo below, know that coolers can also prevent the contents from freezing.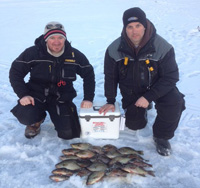 The cooler comes with a handle built into the lid and also a padded shoulder strap when you want to keep hands free.
The cooler can also be used dry for bait like green crabs for blackfishing.
Thus the full name is actually the "Engel Live Bait Dry Box/Cooler."
It comes in three sizes: 13-, 19- and 30-quart.
You probably heard about live-bait coolers.
Now you've heard about the best, according to many reviewers.
This is a pretty serious live-bait cooler.

For more info, visit Engel's website.
Watch a video about the cooler.
Speaking of Engel, check out the company's holiday gift guide.