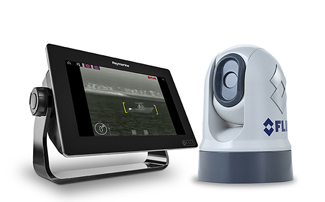 Any angler welcomes when the captain backs off the boat's throttle at night or in fog or a glare.
Obviously that helps safety.
Electronics that aid vision can help, too.
The company FLIR Systems is introducing the M100 and M200 thermal cameras for recreational boating that "enhance awareness" while boating at night or in other decreased visibility.
Neither the human eye nor any camera is foolproof for preventing the boat from running into an object in the water.
But the cameras can show objects on the water more clearly than the naked eye.
That's because the cameras read the objects thermally, or they detect the differences in temperature between objects and the water, unlike the eye.
No matter how the cameras work, the captain just knows that objects look clearer on the video.
If the cameras are used with Raymarine's Axiom line of screens or "multifunction displays," the video alerts the captain visually and audibly to obstacles like another boat, a buoy or a log.
Electronic vision isn't inexpensive, but these are FLIR's most affordable thermal cameras.
The price starts at $2,499.99.
These two cameras are also the company's most compact to date.
If the captain backs off the throttle, you'll still like that, no matter if one of the cameras is aboard.
But the camera helps.
For more info, visit FLIR's website.