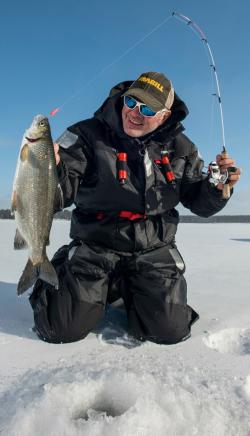 Frabill's I-Float Suit, made for ice fishing, includes the only jacket that the U.S. Coast Guard approved as a Personal Flotation Device, the company says.
That took several years of intensive research, engineering, manufacturing and close communication with the Coast Guard, Frabill says.
The waterproof and windproof jacket, named the I-Float Jacket – the "I" stands for ice-fishing – also features ice picks with holsters, self-draining mesh openings, orange accents for high visibility and more.
The I-Float Bib makes up the other half of the suit and is also waterproof and windproof.

The bib features holsters for ice picks, self-draining mesh openings and more.
Both the jacket and bib are ergonomically designed, and they feature especially durable fabric at the elbows, shoulders and knees.
The I-Float Suit, the combo of the jacket and bib, won the award for Best New Technical Apparel at last year's ICAST

That's the International Convention of Allied Sportfishing Trades, an annual event known for introducing new fishing gear.
Click the links in the article above for more info about the jacket and bib.