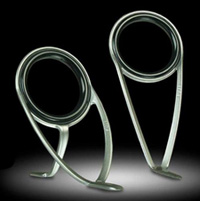 When we review a fishing rod and see that the guides are Fuji, this is what we almost think: check!

If you know what we mean.
Fuji's got that reputation, including because of innovations.
These are a couple of the latest.
The company's Corrosion Control Guides, shown in the photo above, stainless steel, provide up to seven times more corrosion resistance than previous stainless steel guides.
When the company tested the guides in continuous salt spray, the guides lasted up to seven times longer, before corrosion formed.
That amounts to the life of the rod! the company says.
An environmentally friendly treatment bonds to the metal to accomplish that.
The guides are available in "matte silver," "matte grey" and "satin gun metal."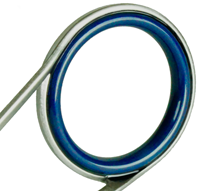 FazLite Rings, in the photo at left, are another product that Fuji recently introduced.
FazLites, colored deep blue, and built from a new material, are meant to be economical or affordable.
Yet they fall short of the company's best rings by only a whisker, the company says.
For proof: they're an option available in Fuji's best guides.
FazLites are "braid-proof, rod-locker tough and smooth as silk," the company says.
So now if we review a rod and see Corrosion Control Guides or FazLite Rings, what might we think?
Check!
For more info, visit Fuji's website.
Also see Fuji's catalog.