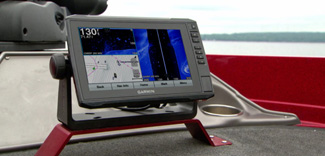 This might be one of the more practical chartplotter and sonar combos for the average angler.
Garmin's EchoMap Plus is compact and can be affordable, depending on the options you want to buy, and can be used on saltwater or inland waters.
Its chartplotter comes pre-loaded with charts covering the coastal United States.
EchoMap Plus also features built-in Wi-Fi that can be used to purchase additional charts and maps online from Garmin.
Its sonar -- CHIRP sonar -- features the traditional view underneath the boat, and also side views.
CHIRP stands for Compressed High-Intensity Radiated Pulse and is the most sophisticated sonar technology available to the boating public.
The sonar that looks downward with EchoMap Plus provides a nearly photographic view, the company says.
EchoMap Plus features a touch-screen that's "sunlight-readable" or is meant to be easier to read in glare that can be an issue for boat electronics.
Boat electronics are sophisticated, and describing the EchoMap Plus involves much more detail than this.
But if you're in the market, this might be one you want to check out.
For details, visit Garmin's website.