No matter how many times you slip on wading boots to fish, you probably think a little about how awkward the waders, whether canvas, neoprene or another material, slide in.
Korkers' Hatchback Boots, slated to be introduced at stores in March, feature an innovative rear-entry for ease, like some skiing boots do.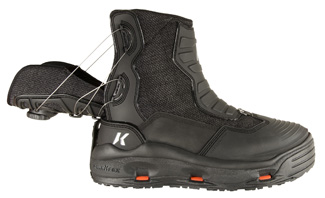 Hatchbacks feature the company's Boa Lacing System, previously used on other boots from Korkers, that uses a dial to tighten the laces.
That might look awkward at first, but is actually made to work easier and better than traditional laces do.
The boots also feature the Omnitrax Interchangeable Sole System that was also included on previous boots from Korkers.
That enables five different types of soles to be used on the boots.
Maybe now, when you're about to wear wading boots, you'll think how much easier Hatchbacks are slipped into.
Korkers, an Oregon company founded more than 50 years ago, has become a generic name for slip-on cleats used for fishing, like how Kleenex can be a generic name for tissues.
But the company produces various types of high-quality footwear for different terrain and uses.
For details, visit Korkers' website.