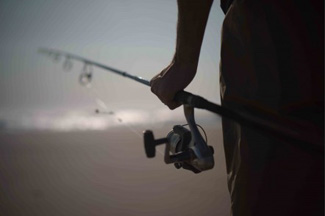 Are Lamiglas surf rods worth the money?
That was the subject of a conversation on a popular striped bass fishing forum online.
Of course, the different posts that answered had different opinions.
There is no answer, because that depends "on who you are," one said.
That also depends on whether you can afford the rod, the same post said.
Likewise, we cannot say whether Lamiglas surf rods are worth the money.
But we can write a brief introduction to the rods.
The company's surf rods are built to the highest standards and to be the most durable possible, the company says.
The lineup comes in a variety of actions and options for different situations.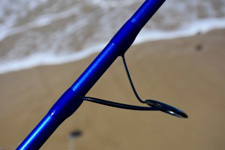 Four models were included on Lamiglas's website at press time: the Super Surf 2G, the Graphite Surf & Jetty, the Certified Pro Surf and – this is the best name, we think! – the Insane Surf.
The Surf 2G is a stunning spinning rod, but there's more to the rod than its looks, the company says. The rod, in an aqua-blue finish, shown in the photo immediately above, is intended to feel surprisingly light, and also highly balanced or "extremely fishable." Yet the rod is strong, Lamiglas says.
The Graphite Surf & Jetty is a classic American design, and a favorite of the company's most discerning customers, the company says. The rod is meant to feature a tip that's soft enough for great casting and action, but have plenty of backbone for power. It's intended to be a workhorse and comes in spinning versions and one casting version.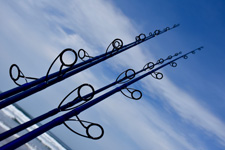 The Certified Pro Surf is built to be a powerful, long-casting, spinning rod, because of effective "loading." Although the rod is built for power, it looks elegant, with a translucent bronze finish and gold trim. Different versions range from a light-action 9-footer to an 11-1/2-footer for long casting.
And now, the model we've all been waiting for.
Kidding.
The Insane Surf, available in spinning and casting versions, is designed to be affordable and transportable. Both lighter and heavier versions are offered, for lighter or heavier fish, lighter or heavier lures or bait, or different casting distances.

All these rods are graphite.

Lamiglas is a 65-year-old, family-owned rod manufacturer in Washington State and was all about fiberglass fishing poles in the beginning.

The company has "continuously redefined ... rod design ... (and) we're just getting started," it says!
Most of the the company's current surf rods are about $400, and the Insane is about $200.
Is a Lamiglas worth the bucks?
That's an opinion.
For details, visit Lamiglas's website.