Naze Baits from Wisconsin produces two lures, both for muskies.

The Tin Head is one.
It's an exciting lure, because the Tin Head, 9 inches, is a top-water.
When a lure can make a musky, a fish that can weigh 50 pounds, attack along the water surface, that's exciting.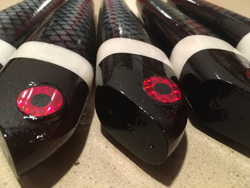 The lure, available in two models, one with a twister tail and the other without, also looks exciting on the retrieve.
"Does it run like the Jiggerbug?" someone wrote on Naze's Facebook page.
"Better!" the company wrote back.
The Tin Head, named for the metal lip that's jitterbug style, swims with a quick and nervous yet heavy-footed action, the company says.
Naze describes the action as doltish.
In other words, dull or dim-witted.
The action looks like something a fish would smash.
The original Tin Head was made from white pine and introduced in 2009.
The latest version is plastic and is being introduced this year.
Plastic enables the lure to be made more precisely and consistently.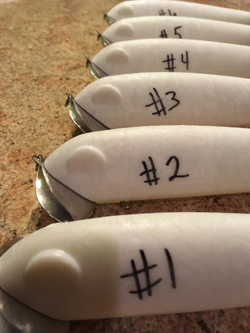 Imperfections in wood, including inconsistent grain, make that difficult.
Plastic also enables the lure to be produced on a larger scale.
The company's co-founders, including Corey Nazer, used to carve and paint every one of Naze's lures from wood.
They were a couple of musky anglers, and Nazer still has a day job.
He's now sole owner and is a high-school teacher, and he estimated that the company sold 2,000 to 4,000 lures during the past few years.

That's according to an article from the company's hometown newspaper.
How big will the company become?
That's uncertain, the article said.
The Tin Head, gurgling and creating a large wake, can be fished from deadly slow to a sprint.
For more info, visit Naze Baits' website.