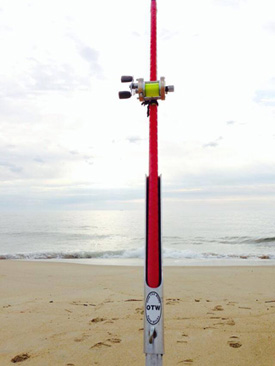 Walking over the dune to reach the surf at 4 o'clock in the morning, I smelled smoke, like maybe one of the rich folks in the shore houses lit the fireplace.
Ah, turns out a group of surf anglers built a fire, and had their beach buggies circled around.
Looked like a serious crew.
I wondered whether they had sand spikes like Sand Sticks from Over the Waves.
Chris Barton, founder of Over the Waves, developed the company's Sand Sticks because of frustration with traditional rod holders made from PVC pipe for the beach.
He wanted to be able to lift the line over the break of the surf: over the waves.
So he built his Sand Sticks, a taller, stronger rod holder with angled aluminum on bottom to spike easily into the sand and an aluminum tube on top to hold the rod.
The tube has a cut out to easily remove the rod.
Sand Sticks are meant to be durable and light.
Tommy Farmer, the long-distance caster from North Carolina, endorses Sand Sticks and sells them on his website.

Farmer only sells products he uses personally, and says Sand Sticks "check all the boxes," he writes on his site.
They're the best he ever fished with, he writes.
Barton, the owner of Over the Waves, is from Delaware, and an avid surf angler.
He also makes surf racks for trucks and accessories like bait boards and tool holders.
Sand Sticks come in lengths from 56 to 58 inches and different colors, and each also features a red flag that is the "signature" for them.
Sand Sticks are available at bait and tackle shops and marine stores in Delaware and at some in Maryland and New Jersey, and the company is expanding availability at more shops.
So when I walked over the dune and saw that group of sharpies, I thought, they've got it all, even a campfire!
Maybe they have Sand Sticks, I thought.
For more info, visit Over the Wave's website.