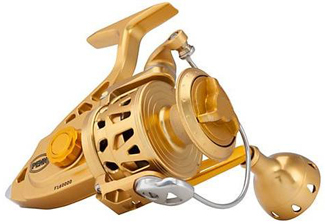 Penn's latest Torque reel, the Torque II, is being introduced.
Originally launched in 2011, Torque is the company's highest-end spinning reel.
It's designed for heavy-duty saltwater fishing from a boat or the surf.
Main new features include the IPX6 Sealed System, a new system that fully seals the reel from the "elements," and an updated Slammer Drag System.
The previous versions were also sealed and featured strong drag.
The oversized drag can put the heat on large pelagics, the company says.
Put the torque on them, in other words?
Indeed.
The reel features one of the strongest gear trains in the business, Penn says.
Some anglers gave Penn heat on the company's Facebook page, accusing Penn of selling out to cheap foreign labor.
Ah, the perils of social media.
The reel is made in Philadelphia from U.S. and foreign parts, someone from the company replied.
Parts like the frame and gears are made in the United States, and parts like screws, springs and ball bearings may be made in other countries, another post from the company said.
None of the few U.S. reel companies make their own screws, springs or ball bearings, it said.
Other anglers posted comments including "these reels are a beast," "love this reel" and "want a reel to last forever? Buy a Penn."
Penn was founded in 1932 in Philly.
The machined, all-aluminum-bodied Torque II comes with a bail or bailess, and is available in different sizes and colors.
Want to know more?
For details, visit Penn's website.