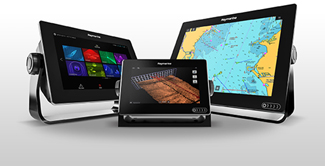 Raymarine's Axiom display screens won an Innovation Award from the Miami Boat Show this past month.
How come?
Introduced days before, the screens, known as a Multi-Function Display or an MFD, are, to say this briefly, intuitive or simple to use, built to display 3D sonar uniquely and are powerful, Raymarine says.
"… users see more, know more and operate more safely on the water," said Gregoire Outters, a vice president of a branch of the company.
MFDs were first developed for military aircraft to display multiple pages of data electronically on one screen, like a map, weather radar and a compass.
The Innovation Awards are meant to recognize products that are distinctly innovative from other products currently on the market, that benefit the marine industry or consumer, and that are practical and cost-effective.
The glass screens, available in 7, 9 and 12.1 inches, are touch-screens and button-free.
The company's Lighthouse 3 operating system, used in the screens, was built to make screens like this simple to use.
The operating system is also meant to be powerful, so the screen can display lots of different information at once, and fast.
The radar, named RealVision 3D, is meant to show underwater structure, fish and forage in stunning detail to see what's below the boat directly underneath and from all sides.
For details, visit Raymarine's website.