You probably lifted your eyebrows when you first saw frog lures.
Raised them a little higher when you saw mouse and rat lures.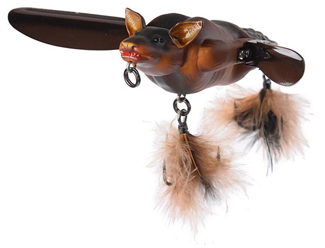 Then the duck lure was introduced.
Savage Gear a couple of months ago introduced the 3D Bat.
Last year, the company unveiled the duck.
All these lures might sound funny, but they catch.
The duck, someone from a tackle shop that stocks them explained to me this week, is like a buzz bait.
The duck's feet rotate on the retrieve, kicking up water and making noise.
He recently landed a largemouth bass on the duck.
The bat is a "metal-winged, crawler, top-water-style (lure)," Savage Gear says.
That type of lure has been popular for musky fishing a long time, and largemouth bass anglers are beginning to find them effective, the company says.
The wings fold to the body on the cast, and open when the lure hits the water.
On the retrieve, the wings give the lure an "exaggerated crawling action," Savage says.

Eeks.

It looks a little creepy. Something about the swimming resembles a bat. But the action looks like a fish could take a swipe.
The bat comes in two sizes – a 4-inch 1-ouncer and 5-inch 2-ouncer – and in the colors brown, black, albino or gray.

The lure is meant for fish including largemouths, muskies and pike.
That tackle shop was about to stock the bat, and the same person said he likes lures like this.
Something different, instead of the "same old," he said.
The horror! you're probably thinking.
Watch a video about the bat.

Check out another.

For more info, visit Savage Gear's website.