This fishing line isn't new.
But Seaguar's Tatsu might be the "most wondrous fluorocarbon … to date," one reviewer said.
The line, meant for freshwater, is among the most premium fluorocarbons today, the reviewer added.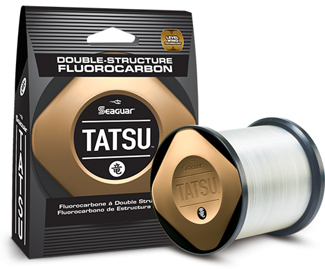 Seaguar, the company that invented fluorocarbon in 1971, developed something named Double-Structure Fluorocarbon.
Previously, anglers had to choose between strength or suppleness in fluorocarbon lines, Seaguar says.
The strong fluoros, besides being strong, were sensitive, and the supple ones, besides being supple, were more cast- and knotable.
Seaguar set out to blend the two types.
Double-Structure Fluorocarbons are made from a strong, sensitive fluorocarbon core that's encased within a soft, supple fluorocarbon exterior.
The two resins are united in a bond that's "intimate and unbreakable."
This is an entirely new paradigm in fishing line, Seaguar says.
Among the company's variety of Double-Structure Fluorocarbons, Tatsu is top-of-the-line.
Forget about having to choose – Tatsu is amazingly strong yet supple like no other fluoro, the company says.
For more information, visit Seaguar's website.