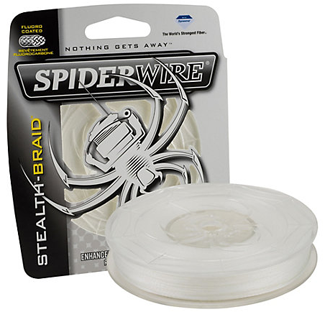 A friend who's the most experienced angler I've known – and I've known some – made a comment about green fishing line.
I don't like colored line, he said under his breath, turning away from me.
A magazine was giving away the line when someone bought a subscription.
Whether colored line makes a difference or not, anglers can feel that it does.
Braided line has usually been colored.
But the new SpiderWire Translucent braid is semi-transparent.
That's what translucent means.
Stealth is braided white fiber with a clear coating.
Its' made with Dyneema, the world's strongest fiber, SpiderWire says.

The fiber is strong, smooth and round.

The clear coating on the fiber, made from a type of plastic, causes the line to shoot through the guides like a bullet, the company says.
Braid, even when colored, stretches less and is thinner and stronger than monofilament.
For some types of fishing, that matters.
If braid is translucent, maybe that's all the better.
It's the clear choice! one magazine said.
For further info, visit SpiderWire's website.