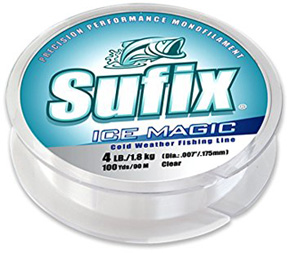 You might be tempted to ice-fish with the same line you'd use for open water.
Sufix's Ice Magic seems to make all the lists for the best lines for ice fishing.
The monofilament is made with special additives, the company says, that deter water absorption.
That discourages ice build-up, keeping the line flexible.
Ice Magic, available in 2- to 8-pound test, is also low memory, discouraging coiling, and low visibility.
The line is also available in orange, and some ice anglers prefer the color to detect bites.

One expert wrote an article that said something like this: Ice-fishing rod? Check. Ice-fishing lures? Check. Ice-fishing line? Nah, I'll use the same line I use for open water. Then he went on to explain why that's a mistake.

You might be tempted to use the same line you fish in open water, but there is a difference.
For more info, visit the Sufix Ice Magic Line webpage.