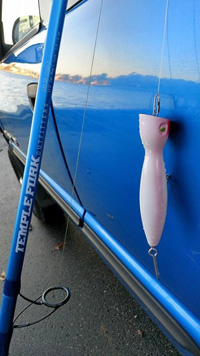 Arriving at tackle shops now, a new surf rod is all the buzz.
That's because the rod, from Temple Fork Outfitters, is an 11-footer built for ½- to 2-ounce lures, lighter than usual.
The rod, named the GIS SP 1102-2, is meant to throw the smaller baits a long distance.
What's more, the pole is specifically built for the Northeast, and New Jersey in particular.
One reviewer noted that most surf fishing in this area is in calm water with gradual drop-offs, requiring the finesse of smaller lures.
That's despite the surf's reputation for being rough and fished in sporty weather, with huge lures to cut through wind or seas.
Sometimes that does happen, but often enough, the water's flat as a pond.
Gary Loomis designed the rod, but so did New Jersey surf casters, TFO says.
The GIS stands for Gary's Inshore Series, and he needs no introduction to anglers.
He founded G. Loomis rods, sold the company and since has shared his design experience with TFO to develop a new generation of rods.
TFO already produces an 11-foot surf rod for 3- to 8-ounce lures.
The company also makes a 10-1/2-footer and a 9-footer.
This new 11-footer can also work well with 3-ounce lures, TFO's New Jersey sales rep Steve Monahan says.
The rod features Fuji guides and braided, rubber handles, and not a lot of other details were available at press time.
The rod was introduced this winter at the annual Surf Day at Brookdale Community College in New Jersey.
It's now hitting stores, in time for the spring surf season.

At press time, the rod was yet to be included on TFO's website.
Look for the rod to be included soon.

* * *

Thank you to Riptide Bait and Tackle in Brigantine, a store that stocks the rod, for putting us in contact with TFO rep Steve Monahan, mentioned in the review, who provided the photos and some information about the poles.