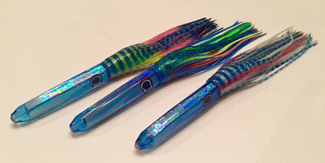 Someone texts a group including me, inviting us to share expenses to fish for bluefin tuna tomorrow.
One of the group texts back, saying he's hearing about sand eels at the Monster Ledge.
This is a year when sand eels are popping up sometimes.
Might not be bad for TN Tackle to introduce its Stick Bait.
The Stick Bait is built to troll for tuna, wahoos and mahi mahi at mid-range, where smaller, thin-profiled bait like sand eels can be common.
The long, skinny lure could also be fished in deeper water farther offshore at the canyons along the Continental Shelf, when bait is small.
The Stick Bait can be fished anywhere in the spread and in all sea conditions, the company says.
It's available in a variety of versions that are different colors and have either a rubber skirt or feathers.

I couldn't go tuna fishing.

Had to post articles on FRN. :(

Ha.
For more info, visit TN Tackle's website.