New rods, new reels, new lures, even new fishing line.
All kinds of fishing innovations come out every year.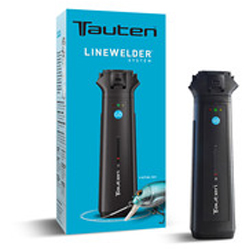 Here's even a new way to tie a knot, so to speak.
The Tauten Line Welder shrinks a plastic sleeve around fishing line to form a loop to hold a lure or a hook.
The idea is that a knot is the weakest point in a lure.
Bonding the line with the handheld Tauten does not decrease the line's strength, the company says.
The battery-operated, rechargeable Line Welder works with 10- to 12-pound monofilament or fluorocarbon and 10- to 50-pound braided line.
The company is reportedly working on a welder that can bond mono to braid.
The loop allows the lure or hook to move freely.
For more info, visit Tauten's website.