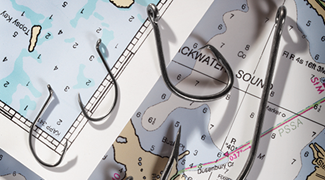 Saltwater fishing hooks should have a corrosion-resistant finish.
Bare metal won't do.
The company VMC's Coastal Black Hooks, introduced this past year, feature micro-thin layers of black finish for that.
The hooks -- available in a variety of models: inline, circle, offset circle, live bait and treble -- are engineered to be up to five times more corrosion resistant than traditional black finishes, the company says.
In fact, the hooks, meant for saltwater, last longer than any black-finished hook on the market, it says.
The hooks are engineered to be sharp and strong.
They're 20 percent stronger than tin hooks, according to the company.
Much more goes into making hooks these days than you might imagine.
For instance, watch a video about the VMC factory and its history.