Editor's note: Accurate, the reel manufacturer from California, has become especially known for small reels to fight big fish.

In the company's blog, the latest post was about how to spool braided line on small conventional reels to tackle big game.

We've summarized that post in the below article and included a link to the original at the bottom.

This isn't exactly a product review, but the article showcases some of what the company knows about fishing with these reels.

Here's the summary:


Braided fishing line was introduced in the 1980s and first became popular among a few leaders in fishing in California.

The popularity surged, and anglers realized that the small diameter of braid could accomplish two things.

More of the line could fit on the large reels that were already used for big game, or smaller reels could be designed to use for the fishing, because braid's thinner diameter enabled enough line to fit on that size of reel.

The reason to use smaller reels is because they're more comfortable during a fight that can be long and hard.

The smaller reels would need to be stronger and have stronger drags than usual to handle the fish.

This began a revolution in the design of small reels, Accurate says.
Anglers wanted to fight big fish with small reels.

Reels the size of a fist were being used to crank in catches that weighed hundreds of pounds apiece.

The reels tended to be fished when casting jigs or lures like poppers when fish were busting the water surface and could be likely to be hooked on them.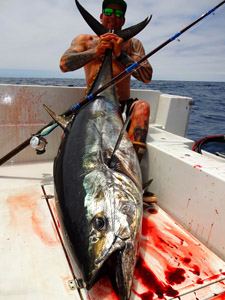 New knots were developed to fish braid, and anglers experimented with spooling braid on reels in different ways to help land the fish.
First, some history.
One group of California anglers kept fishing on long-range trips on big boats 100 to 130 feet that offered trips that traveled far south to fish for trophy yellowfin tuna to 400 pounds.
This was near islands and at underwater banks off Cabo San Lucas in Mexico's Baja California and also off mainland Mexico.
The trips would sail for up to 21 days, and the anglers were always looking for a better wayto reel these large, powerful tuna to the boats that were sitting dead-still.
On the small reels, they began stacking braid and perfecting the knots to do so.
Stacking braid means that a smaller diameter, and therefore a lighter test, is spooled on bottom, and thicker braid is spooled on top of that.
The thicker line is used on top so that the fish can be pulled harder at the end of the fight.
The thinner line on bottom works fine because braid, even when thin, is very difficult to break on a dead pull unless frayed.
There is no set combination of line sizes to stack, but a difference of 20 to 30 pounds works well.
About 200 or 300 yards of thinner will be used on bottom, and 75 to 100 of heavier on top.
For instance, maybe 300 yards of 40-pound braid will be on bottom, and 75 or 100 of 65-pound will be on top.
The two lines are connected in one of two ways: with a Bimini knot or, if hollow core is used, by splicing.
Of course, stacking has come to be used for all different big game, like bluefin tuna.
It's also used for large bottom-fish.

For further details about stacking, read the blog.

To learn about trhe company's products, visit Accurate's website.

Also watch a cool video about Accurate's story.