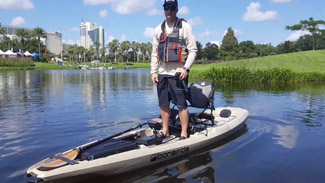 Bonafide Kayaks, a newcomer to kayak fishing, could "blow open the fishing world," an article said in Field & Stream magazine.
The hull is the reason.
The Greenboro, South Carolina, company calls the design a hybrid-catamaran hull.
That's meant for stability and better paddling.
Two models are currently made: the SS127 that was introduced at last year's International Convention of Allied Sportfishing Trades, and the longer SS107 that's supposed to be introduced any moment.
The hull is wide for stability.
It's not kind of stable – it's crazy stable, the company says.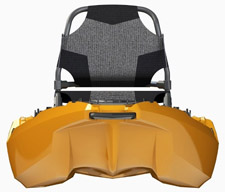 Yet the catamaran design makes the kayak one of the best-paddling in its class, it says.
Another notable feature is a seat that can be easily adjusted to be low, high or in-between.
Paddling is great at any of the seat's positions, Bonafide says.
The kayaks are tricked out with many features including hatches, paddle holders, different rod holders, a boss strap to park rod tips, gunwale tracks for accessory options, transducer mounts, bungee tie-downs and more.
This is a fishing kayak.
An ultimate one, the company says.
Check it out. Visit the Bonafide Kayaks website.