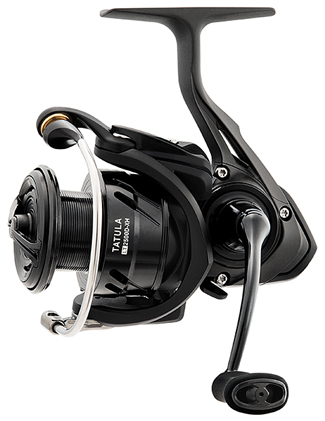 The weight of this reel gained most attention when it was introduced months ago.
Is this reel, Daiwa's Tatula LT, the lightest ever spinning reel?
The freshwater reel, made mostly for bass fishing, is in contention, certainly, one review in a magazine said.
The lightest model of the reel weighs a half-ounce less than an iPhone X, it said.
The reel is light because the frame is made from a carbon fiber named Zaion.

Although the Tatula LT is light, the reel is also tough.

The LT in the reel's name stands for Light and Tough.
Zaion features more carbon fibers per square inch than the carbon in similar reels, making the material more rigid or less flexible.

It's tough.
Another notable feature is a 6.2:1 gear ratio that's faster, retrieving line quickly.
Another review said anglers might be likely to buy this reel because of the price.
The Tatula LT, retailing for about $189, is less expensive than other reels that are similar.
Daiwa previously introduced two other LT reels, several Tatula bait-casting reels and some Tatula rods to match the reels.

We try not to judge products in these reviews, and instead, we aim to summarize what the industry, sometimes including the company itself, is saying about the product.

That said, here's an opinion. This reel was one of the past year's new that drew attention from the industry. Is that because of the quality of the reel, or the big-name company that manufactured it or the fact that a company this size can afford to build a reel that compares well with others?

Yes! is our answer.
For more of the reel's specs, visit Daiwa's website.